2 min read
The Online Regulation Series | The Handbook
---
THE ONLINE REGULATION SERIES | THE HANDBOOK
Tech Against Terrorism is pleased to launch the Online Regulation Series Handbook.
The Online Regulation Series Handbook provides an analysis of global online regulation, analysing over 60 legislations and regulatory proposals in 17 countries, and their implications for countering terrorist and violent extremist content.
The Handbook is based on analysis published throughout October and November 2020 for the first edition of our Online Regulation Series. All country analyses have been updated to reflect recent regulatory changes. For each country, we provide a summary of the regulatory framework and the key takeaways for tech platforms, as well as Tech Against Terrorism's commentary.
The Handbook also includes Tech Against Terrorism's key recommendations for governments and an analysis of International Human Rights Law as a possible framework for content regulation and governance.
With this Handbook we aim to provide a comprehensive and accessible resource for tech platforms to improve their understanding of legislative developments and key trends in online regulation. All resources included in the Handbook can be accessed via our relaunched Knowledge Sharing Platform.
You can access the Handbook here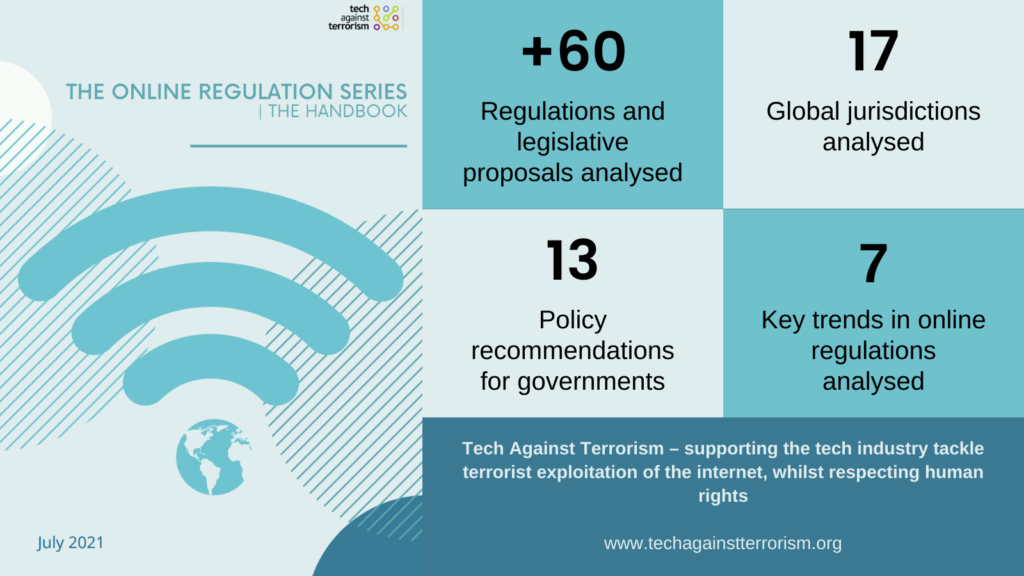 ---
Background to the Online Regulation Series
The period after 2017 has seen a plethora of legislative initiatives aiming to regulate online speech. In the jurisdictions considered in the Online Regulations Series Handbook, over 20 regulations, legislative proposals and blueprint for updated regulatory frameworks have been discussed or passed. Many of these regulations used the countering of dissemination of terrorist content as a justification. Regulation of online speech is often complex, and the fact that many laws are pioneering in ambition and scope means that it can be difficult to comprehend for tech companies.
In light of this fast-changing and complex regulatory landscape, Tech Against Terrorism decided to provide smaller tech companies with an overview of global online regulation. We reviewed over 60 pieces of legislation, proposals, and guidelines that aim to regulate the online sphere, and analysed over 100 data sources and civil society reports.
This effort culminated in the Online Regulation Series, where over the course of six weeks, in October and November 2020, Tech Against Terrorism focused its outreach and knowledge-sharing efforts on providing our stakeholders with an update on the state of global online regulation. Now, we are pleased to launch the Online Regulation Series Handbook – a centralised resource collating this analysis and reflective of recent regulatory developments.
We focus on three questions to improve our understanding of online regulation:
What is the global state of play with regard to online regulation?
What are the regulatory initiatives that aim to regulate online content?
What are the implications for tech platforms?
The Online Regulation Series concluded with a webinar entitled The State of Global Online Regulation, bringing together analysis from tech policy and digital rights experts on the key global regulations that are shaping online speech around the world. If you are interested in viewing a recording of this webinar, please get in touch at contact@techagainstterrorism.org


---
Editorial note: The analysis included in this report is based on the blogposts we published on Tech Against Terrorism's website in October – November 2020, and were updated to reflect changes in the online regulation landscape that took place between October 2020 and June 2021. As the state of global online regulation continues to change, Tech Against Terrorism will strive to provide regular updates on the implications for tech companies, and their efforts in countering terrorist use of the internet whilst respecting human rights. If you are aware of something that should be included or updated, please get in touch with us at contact@techagainstterrorism.org