Online Regulation Series
Comprehensive guide to global online regulation, analysing over 100 pieces of legislation from 30 jurisdictions around the world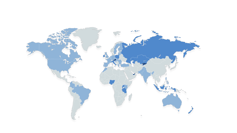 Making sense of the online regulatory landscape
Since 2021, Tech Against Terrorism has conducted a detailed analysis of legislation and proposed regulations that impact countering terrorist and violent extremist content.

Online Regulation Series 3.0
Our most comprehensive guide yet, with additional jurisdictions under consideration include Australia, Austria, European Union, India, Kyrgyzstan, New Zealand, Singapore, United Arab Emirates, United Kingdom and the United States.

Online Regulation Series 2.0
We expanded the initial scope of the Online Regulation Series, with a focus on Europe and Sub-Saharan Africa

Online Regulation Series 1.0
Facing this fast-changing landscape, Tech Against Terrorism reviewed over 60 pieces of legislation, proposals, and guidelines that aim to regulate the online sphere, and analysed over 100 data sources and civil society reports.
Find out more
Further analysis from our Online Regulation Series is available on Tech Against Terrorism's Knowledge Sharing Platform. A curated resource for tech platforms wishing to ensure they stay ahead of the terrorist exploitation of their platforms.
Contact Us
See how Tech Against Terrorism can help.