4 min read
Tech Against Terrorism Mentorship & Membership | Looking forward
In 2020, we significantly expanded the Tech Against Terrorism Mentorship, with 11 new tech companies joining our programme. We also increased our Membership and welcomed 7 tech platforms as Tech Against Terrorism members.
You can read our 2018 - 2020 Overview of the Mentorship Programme, highlighting the great results of the programme so far here.
You can read our summary of recent work and research (January - May 2021), and how these inform our support for smaller platforms here.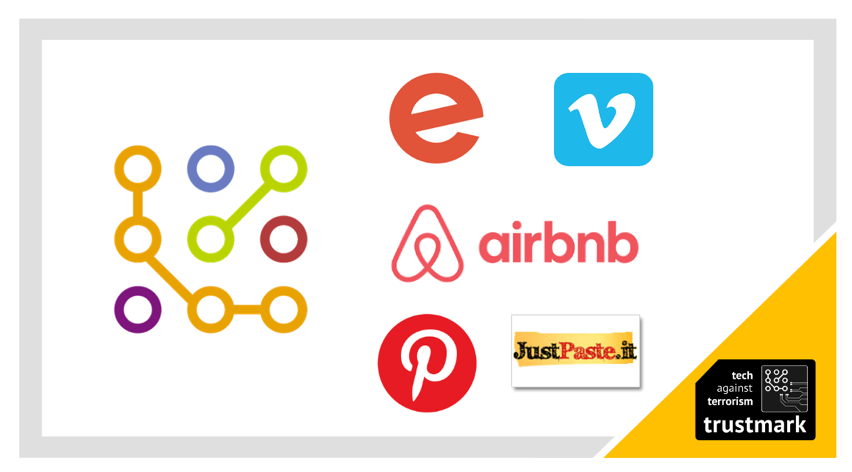 2020 – A year of changes and improvements
2020 was a year of many changes, including for our Mentorship and Membership programmes. Behind the scenes, the Tech Against Terrorism team focused on rethinking certain elements of our Mentorship and Membership programmes to identify where we could improve our support for smaller tech companies, and ensure that we provide assistance where it is most needed.
Focusing on supporting capacity building for platforms and raising industry standards, we worked through 2020 and early 2021 to consolidate our support programme. In line with this strategy, we introduced a number of changes to improve the benefits offered to our member companies: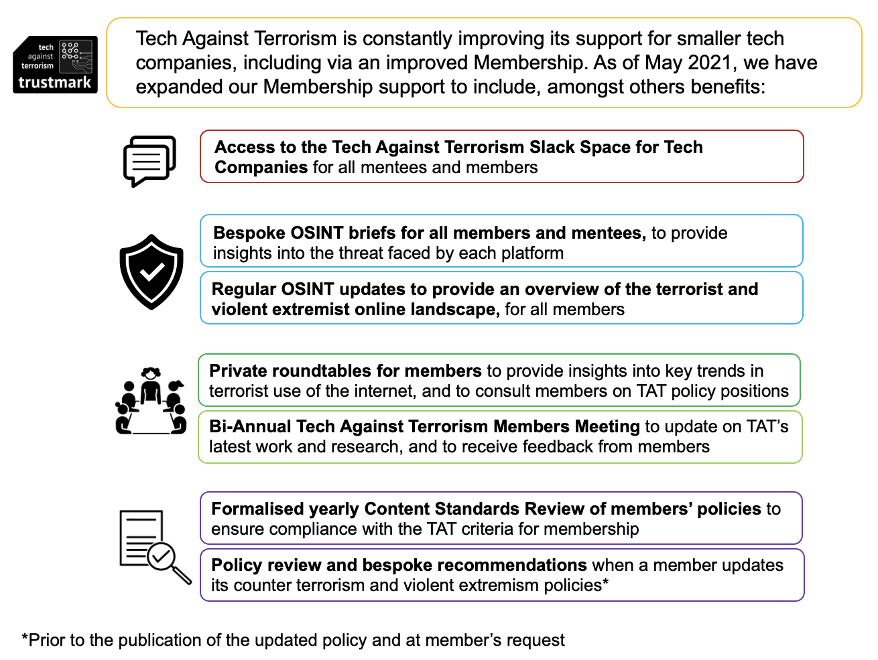 In 2020, we also introduced changes to our criteria for Membership and formalised our compliance process:
To drive tech sector accountability, we added a 7th Membership criterion: user appeals
All tech companies interested in joining the Tech Against Terrorism Membership are now required to have an appeal system in place, for users to submit user appeal requests for content and accounts removed or otherwise actioned. User appeals are a key component of a platform's accountability towards its users since they allow users to contest a moderation decision.
For mentees and members that joined before January 2021, we will support them in developing the necessary user appeal policy and related redress processes, to ensure that they all meet our Membership criteria.[mfn]This criterion does not apply for members and mentees who joined prior to 2021. This means that mentees who joined in 2020 but are completing their Mentorship in 2021 will not be assessed based on that, and existing members will not have their Membership suspended if they do not have a user appeal system in place[/mfn]
To strengthen compliance with the Membership requirements, we formalised our compliance review process
The compliance review is based on the in-depth policy review we conduct and share with each prospective member at the beginning of their Mentorship process. This policy review serves as the basis of our yearly compliance review, alongside policy updates and new resources made available by the platform to its users.[mfn]For instance, the creation or update of a Safety or Transparency Center, additional publication related to a platform's counterterrorism and approach, and steps taken to ensure users' safety.[/mfn] As for all Tech Against Terrorism's policy reviews, we also assess transparency efforts, in particular improvements in transparency reporting.
Yearly compliance reviews of platforms' policies will also allow us to provide updated recommendations, informed by the evolution of the online terrorist and violent extremist threat, and by the changing regulatory landscape. This will help platforms continuously strengthen and adapt their counterterrorism and transparency efforts.
TAT MENTORSHIP & MEMBERSHIP | EXPANDING OUR SUPPORT IN 2021
---

Building on the improvements made to our Mentorship and Membership programmes in 2020 and early 2021, we will continue to expand on the support we provide to smaller platforms:
Operationalising our policy support work
As we grow our Mentorship and Membership programmes, we will expand our practical support for smaller tech companies. We will focus on operationalising our policy support and helping platforms implement the recommendations we made.
Knowledge Sharing Platform
The re-launch of our Knowledge Sharing Platform (KSP) in 2021 will be at the core of our commitment for strengthened practical support. The KSP is a collection of interactive tools and resources designed to support the operational needs of smaller tech platforms. Its development is informed by our policy work. We will continue to update the resources already included in the KSP to ensure that it practically supports platforms as the terrorist and violent extremist threat and the regulatory landscape evolve.
To ensure that we provide platforms with all the support needed to meet our Membership criteria, in 2021 Tech Against Terrorism will work on producing a short handbook on user appeal policies and mechanisms. This handbook will develop on the importance of user appeal for accountability and freedom of expression online; review existing practices in the tech sector; and outline different user appeal processes to support our mentees and members in developing their own.
Tech Against Terrorism Guidelines for Transparency Reporting on Online Counterterrorism efforts
As we continue to support tech companies in producing transparency reports, we will soon publish our Guidelines for Transparency Reporting on online counterterrorism efforts. Our Transparency Guidelines for Tech Companies aim to help drive improved tech sector transparency in a proportionate, practical and meaningful way in support of the programmatic activities we carry out as part of the Mentorship Programme.
In addition, we will be publishing Guidelines for governments aiming to drive consensus for improved transparency on governments' online counterterrorism efforts. Currently, only a small number of government entities publish (limited) transparency reports.
Scaling up threat assessments
In 2020, we expanded our OSINT monitoring capacity to inform our practical support for tech companies, and, in early 2021, introduced bespoke OSINT briefs and regular updates on the terrorist and violent extremist use of the internet. In 2021, we continue to expand our monitoring of the online landscape to produce briefs and reports for our members on key trends in terrorist use of the internet and how to respond to the evolving threat. We notably focus on content moderation avoidance techniques by terrorist and violent extremist actors, and how to strengthen content moderation in response
Outreach to tech companies and alerts of of terrorist contentand updates
Based on our monitoring of terrorist use of the internet, we identify and contact at-risk platforms and offer them to join our Mentorship programme and be added to our Terrorist Content Analytics Platform (TCAP) alert system.
Providing platforms with regulatory analysis and updates
Building on the success of the 2020 Online Regulation Series, Tech Against Terrorism continues to closely monitor emerging global online regulation to support tech companies in adapting to new legal requirements. We focus on assisting platforms understand what these regulations will require of them, and in helping them outline the practical steps necessary to ensure compliance.
We will also continue to advocate for smaller platforms to be considered and consulted by policymakers when drafting regulations that can significantly impact how a platform counters terrorist use of its services, and engage in content moderation in general. We will continue to call for policymakers to consider the limited resources and capacity of smaller platforms, and to support cross-collaboration meant at assisting tech companies in effectively tackling terrorist and violent extremist use of their services.
Giving a voice to smaller platforms
In 2021, we are introducing private roundtables for our members. These will be the opportunity for tech companies to provide their views on emerging online regulations and discuss challenges they encounter in responding to terrorist and violent extremist exploitation. The insights gathered during these roundtables will inform our policy response. Beyond that, we will continue consulting with both mentees and members on a regular basis to ensure they can provide feedback on Tech Against Terrorism policy position.