2 min read
Announcing Tech Against Terrorism's Newest Member
Following their completion of the Tech Against Terrorism Mentorship Programme and having met our Membership criteria, BitChute is now a Tech Against Terrorism member. Tech Against Terrorism has helped BitChute in countering terrorist and violent extremist use of the internet whilst respecting human rights since it joined the Mentorship Programme in 2020.

The Tech Against Terrorism mentorship criteria are: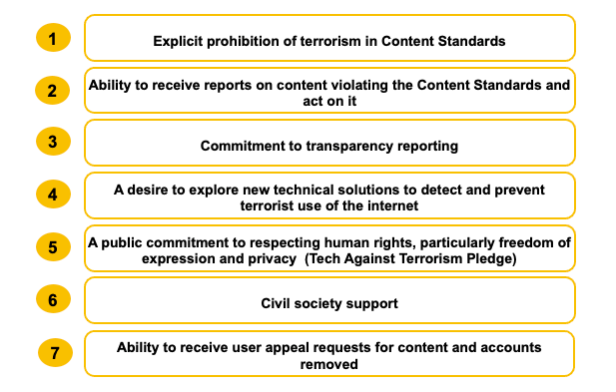 As members, Tech Against Terrorism will continue to support BitChute in responding to terrorist and violent extremist material on its platform. This includes, as part of our Membership services, bespoke policy-oriented support and ongoing alerts to terrorist content. Tech Against Terrorism also conducts yearly compliance review for all Member platforms to prevent backslide against our criteria.
"It is an honour and a privilege to become a member of Tech Against Terrorism. Their understanding of the challenges that newer tech companies face along with their positive and constructive engagement has been indispensable. We're pleased to be tackling terrorist content together, while respecting freedom of expression and human rights for all."

- Ray Vahey, Chief Executive Officer
Impact throughout the Mentorship Programme
As a result of Tech Against Terrorism's engagement, BitChute has in the last two years
Removed all terrorist and violent extremist content reported by Tech Against Terrorism, including content related to the 2019 Christchurch attack and the 2022 Buffalo attack.
Expanded its prohibition of terrorism, including to add an explicit prohibition of violent extremist organisations.
Published a list of non-designated violent extremist organisations that are prohibited on BitChute. As of August 2022, this list includes the Order of Nine Angles, the Nordic Resistance Movement, and Golden Dawn.
Introduced a reporting feature for logged in users to report content that is illegal or in violation of BitChute's content standards.
Published a first transparency report.
Included explicit reference to international human rights standards in their policies.
Background to our Mentorship and Membership programmes
The Mentorship Programme is a core service offered free of charge to smaller tech companies by Tech Against Terrorism to assist them in developing and improving their counterterrorism policies and enforcement mechanisms. The Mentorship Programme is inclusive in supporting all platforms that are willing to counter terrorist content online.
The Programme relies on Tech Against Terrorism's expertise on counterterrorism and tech policy, and leverages the work of our Policy, OSINT, and Research teams to ensure a comprehensive support for our mentees. All support is tailored to the specific needs and threat picture of each platform. Our primary focus is to support mentees in tackling exploitation of their services by designated terrorist organisations, based on designation lists by democratic governments and international organisations.
As platforms progress to member statue, Tech Against Terrorism continues to support member platforms in disrupting and preventing terrorist use of their services whilst respecting human rights. In addition to policy support, member platforms also receive alerts when content is located on their services, via the Terrorist Content Analytics Platform for designed terrorist organisations and via emails for non-designated violent extremist organisations that Tech Against Terrorism deems to be a significant threat. We also provide additional support on increasing transparency and accountability, and on implementing human rights commitment.
You find more information about our Mentorship and Membership here.