4 min read
Tech Against Terrorism Mentorship: 2021 - To Date
The Tech Against Terrorism Mentorship Programme
Since the launch of our Mentorship Programme in 2018, Tech Against Terrorism has mentored 40 tech platforms to help them tackle terrorist and violent extremist (TVE) use of their services in a human rights-compliant manner.
Since the start of 2021, Tech Against Terrorism has welcomed 20 new tech platforms to the Mentorship Programme, contributing to the diversity of platforms we support across the tech ecosystem. Our mentees all face different threats of exploitation by TVE actors and groups and each with their own content moderation. All of our mentees continue to demonstrate willingness and ingenuity in countering TVE use of their platforms, and remain committed to increasing transparency and accountability towards their users.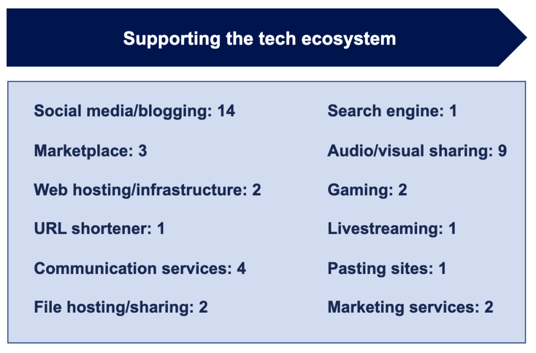 Since the start of 2021, we have welcomed two new gaming platforms; eight new social media platforms; four new audio or visual sharing platforms; one new communications platform; one new marketplace platform; one new URL shortener; one new web hosting site; and one new livestreaming platform.
Policy Advisory and Response Team – Mentorship Programme
In February 2022, Tech Against Terrorism formally launched its Policy Advisory and Response team, dedicated to supporting resilient yet flexible online counterterrorism responses. Our Mentorship Programme sits at the core of the Policy Advisory and Response Team's work as our principal knowledge sharing and bespoke capacity-building support for tech platforms.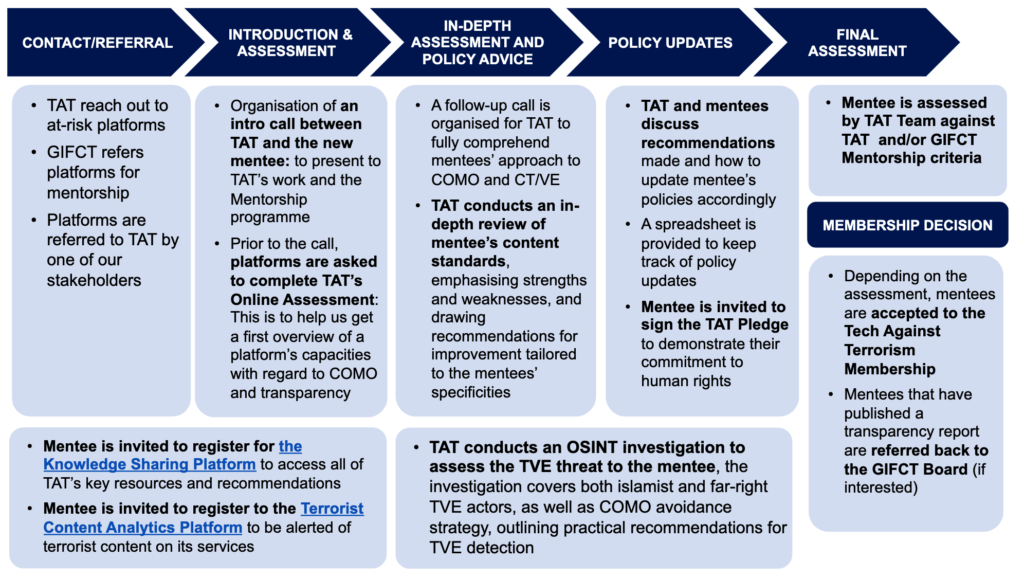 As the first step in the mentorship process, Tech Against Terrorism conducts an in-depth review of the mentee platform's content standards to identify areas of strength and areas of improvement. We analyse all company policies pertaining to content moderation and counterterrorism, and set up time to discuss internal processes for identifying and removing terrorist and violent extremist content. Once our initial recommendations have been shared, we work closely with tech companies in an iterative consultation process to provide practical guidance on how to implement recommendations and meet Tech Against Terrorism membership criteria.
All of Tech Against Terrorism's recommendations are tailored to account for the specific products and features of the platforms we work with, based on terrorist and violent extremist risk assessments conducted by Tech Against Terrorism's open-source intelligence (OSINT) team. We also account for the platform's user base demographic and for the online regulation in place in its main markets.
Mentorship Programme Key Successes: 2021 – To Date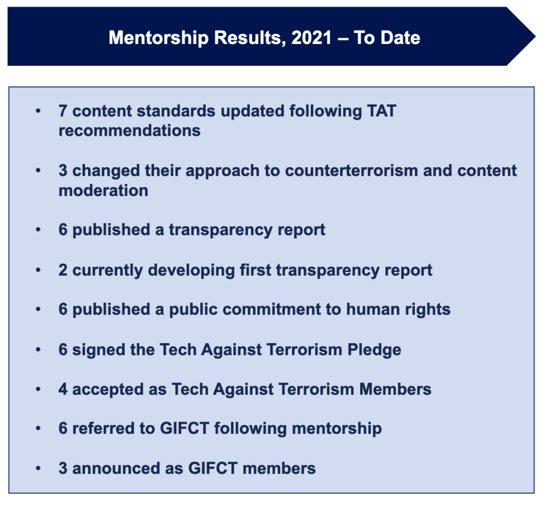 Updated content standards
Since 2021, 11 platforms have updated their content standards as part of our Mentorship Programme.
5 have added an explicit prohibition of terrorism
1 has referred to national and international designation lists in prohibiting terrorism
2 have provided detailed examples of content covered by the terrorism prohibition
4 have added detailed guidelines on content moderation processes and moderation capacity
2 have introduced a user appeals process
Transparency and accountability
The Mentorship Programme is underpinned by Tech Against Terrorism's commitment to meaningful transparency and accountability from the tech sector. For tech companies, Tech Against Terrorism understands transparency is a process in which transparency reporting is an outcome. To ensure meaningful transparency across the tech industry, we advise companies to report on a small number of core metrics that cover policies, processes, systems, and outcomes. In 2021, we published Transparency Reporting Guidelines which serve as a starting point for increased transparency.
Since 2021, Tech Against Terrorism has helped six tech platforms publish their first transparency reports, and are currently advising two platforms whose transparency reports are in their draft stage. Our transparency reporting support includes bespoke consultation to create relevant transparency reporting framework, and transparency reporting review to continuously strengthen transparency.
Human rights
All mentees are invited to sign the Tech Against Terrorism Pledge. This Pledge contains six guiding principles based on internationally recognised norms and aims to promote responsible industry practices with regards to online counterterrorism efforts and ensuring that the protection of human rights and counterterrorism efforts are complementary and mutually reinforcing goals.
We have also developed our human rights support to advise companies in demonstrating their human rights commitment and with what this commitment implies in practice, including by advising on language to demonstrate a public commitment to human rights through concrete examples and on expanding this commitment into a more developed human rights policy with practical actions. Examples of this include implementing a clear and easily-accessible user appeals process, and expanding upon existing human rights commitments into a full-fledged human rights policy. Since 2021, six mentee platforms have published a public commitment to safeguarding human rights.
As part of our efforts to support the commitments of tech platforms to safeguard human rights in their counterterrorism efforts, we are proud to have mentored Zoom in publishing a comprehensive and meaningful commitment to preserving privacy and freedom of expression. Zoom also publishes blog posts outlining how they continually strive to improve their policies and safeguard human rights online.
Approaches to countering terrorist use of services
Through our Mentorship Programme, three platforms have fundamentally changed their approach to their counterterrorism policies and content moderation processes. These platforms have acted upon all of our policy and practical recommendations to develop and implement resilient yet flexible counterterrorism responses to the unique threats facing their platforms and have demonstrated a significant shift in how they seek to counter TVE use of their platforms, both from a policy and operational perspective.
Knowledge Sharing Platform
Re-launched in July 2021, The Knowledge Sharing Platform (KSP) was developed by Tech Against Terrorism to provide smaller tech companies with a collection of interactive tools and resources designed to support their operational and policy-oriented requirements with regard to developing and implementing an effective and human rights compliant counterterrorism response.
The KSP is a free platform which provides content moderators and Trust & Safety teams with resources, guidelines, and recommendations to support them with preventing and tackling terrorist and violent extremist use of their platforms whilst also increasing transparency and accountability towards their users. The KSP collates 40+ pages of resources on TUI, online regulation, transparency reporting, and policy best practice. To date, we are proud to have 44 tech companies registered and a total of 218 users on the KSP.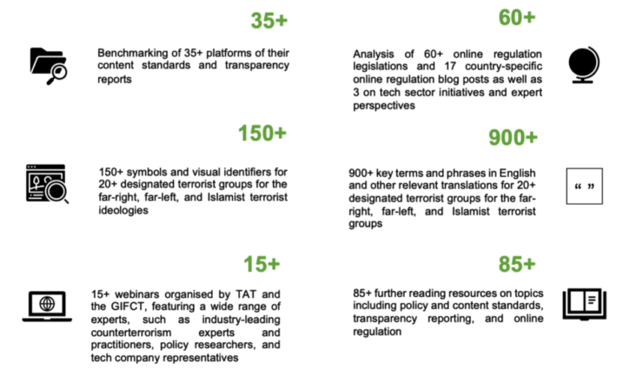 Tech Against Terrorism Membership and GIFCT Membership
Our Mentorship Programme partially supports the Global Internet Forum to Counter Terrorism (GIFCT) and is designed to assist tech companies in meeting both Tech Against Terrorism and GIFCT Memberships criteria. Throughout the mentorship process, we assist tech platforms in updating their policies and processes to meet these membership requirements.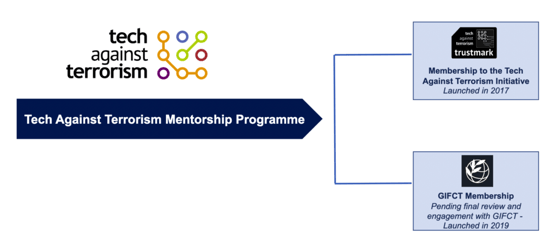 You can learn more about how our Mentorship Programme leads to Tech Against Terrorism's Membership here, and GIFCT Membership here.
Looking forward
As we continue to further ground our work with mentees in safeguarding human rights and the freedom of expression, Tech Against Terrorism is drafting a human rights assessment framework. This framework will be used to assess companies' content moderation processes and content standards against international human rights standards to ensure robust and meaningful commitments to upholding human rights.
We also plan to continue our research and analysis on global online regulation, building upon the success of the 2020 Online Regulation Series and its updated analysis in 2021. Tech Against Terrorism continues to closely monitor emerging global online regulation to support tech companies in adapting to new legal requirements. We focus on assisting platforms understand what these regulations will require of them, and in helping them outline the practical steps necessary to ensure compliance. In light of upcoming regulation in the United Kingdom and European Union, we will continue to advocate for smaller platforms to be considered by policymakers, and call upon policymakers to consider the limited resources and capacity of smaller platforms.
Interested in joining the Tech Against Terrorism Mentorship? You can reach out at contact@techagainstterorism.org