2 min read
Announcing: Tech Against Terrorism's Policy Advisory and Response Team
Announcing: Tech Against Terrorism's Policy Advisory and Response Team
---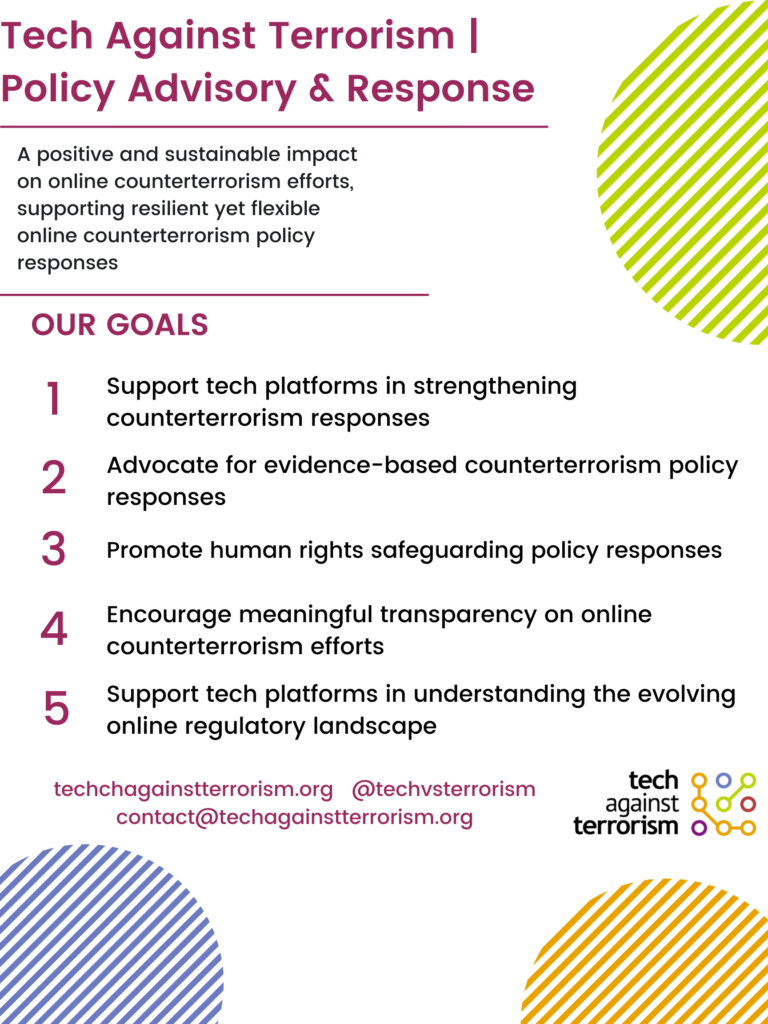 In line with our commitment of supporting efforts to counter terrorist use of the internet whilst respecting human rights, Tech Against Terrorism is delighted to announce the launch of its Policy Advisory and Response team.
With this new policy-focused team, Tech Against Terrorism aims to have a positive and sustainable impact on global online counterterrorism efforts, supporting resilient yet flexible online counterterrorism policy responses.
---
Providing bespoke support to tech companies
Our Policy Advisory and Response work will allow us to expand on the bespoke support we provide to the tech sector in strengthening online counterterrorism efforts.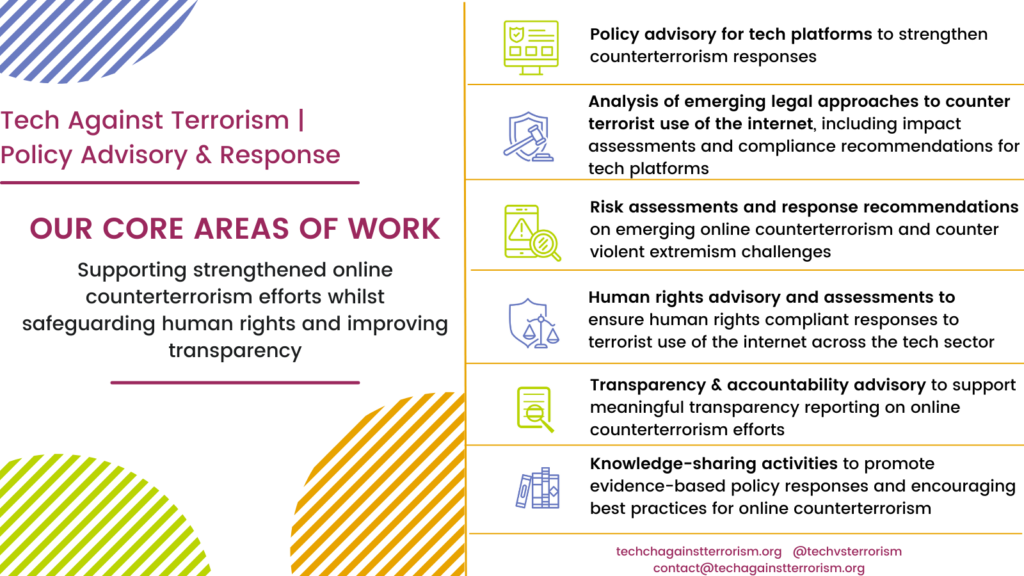 Our services for tech companies include:
Mentorship and Membership Programmes: Our principal knowledge sharing and bespoke capacity-building support for smaller and newer tech platforms.
Knowledge Sharing Platform: A collection of interactive tools and resources to support the tech sector in developing and implementing an effective and human rights compliant counterterrorism response.
Crisis Response and Evaluation: Improving tech platforms' capacity to rapidly adapt their counterterrorism approach to respond to crisis situations and implement countermeasures to prevent future incidents.
Counterterrorism and Human Rights Compliance: Supporting platforms in assessing the impact of counterterrorism policies on human rights and promoting human rights safeguarding counterterrorism responses.
Regulatory Analysis and Impact Assessment: Supporting improved understanding of current and evolving legal responses to terrorist use of the internet and online regulation.
Products and Features Risks Assessment: Recommendations for products and features development based on terrorism and violent extremism risk assessments, in cooperation with Tech Against Terrorism's Open-Source Intelligence (OSINT) team.
---
Advocating for evidence-based legal responses to terrorist use of the internet
We are committed to promoting legal responses to terrorist use of the internet that safeguard online privacy and security and uphold human rights.
We support tech companies in understanding the complexities of global legal responses to terrorist use of the internet and how legal requirements may impact their counterterrorism and content moderation approach.
We advocate for legal responses to terrorist use of the internet that are evidence-based and consider the diversity of the tech sector, including the variety of online services offered and the limited resources of smaller and newer platforms.
We facilitate discussion between policymakers and smaller tech platforms, including via private roundtable for Tech Against Terrorism's mentees and members to provide direct feedback to policymakers on new legislation.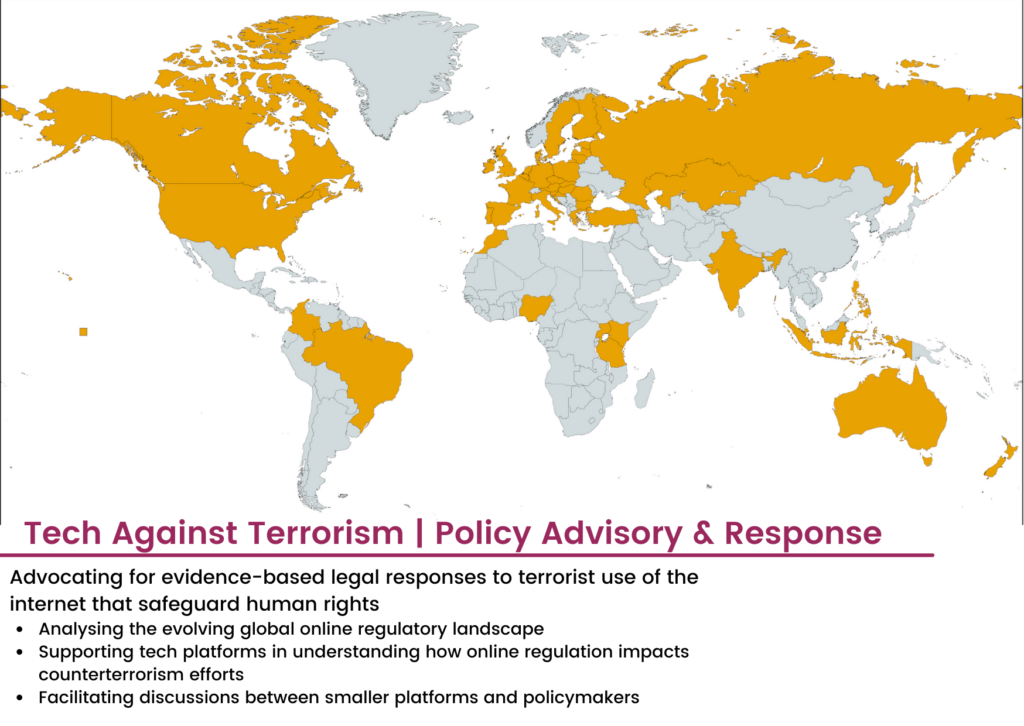 Our landmark Online Regulation Series provides regular analysis of the global online regulation landscape, covering 29 jurisdictions (as of January 2022). We continue to monitor developments in online regulation and legal responses to terrorist use of the internet to expand our coverage.
---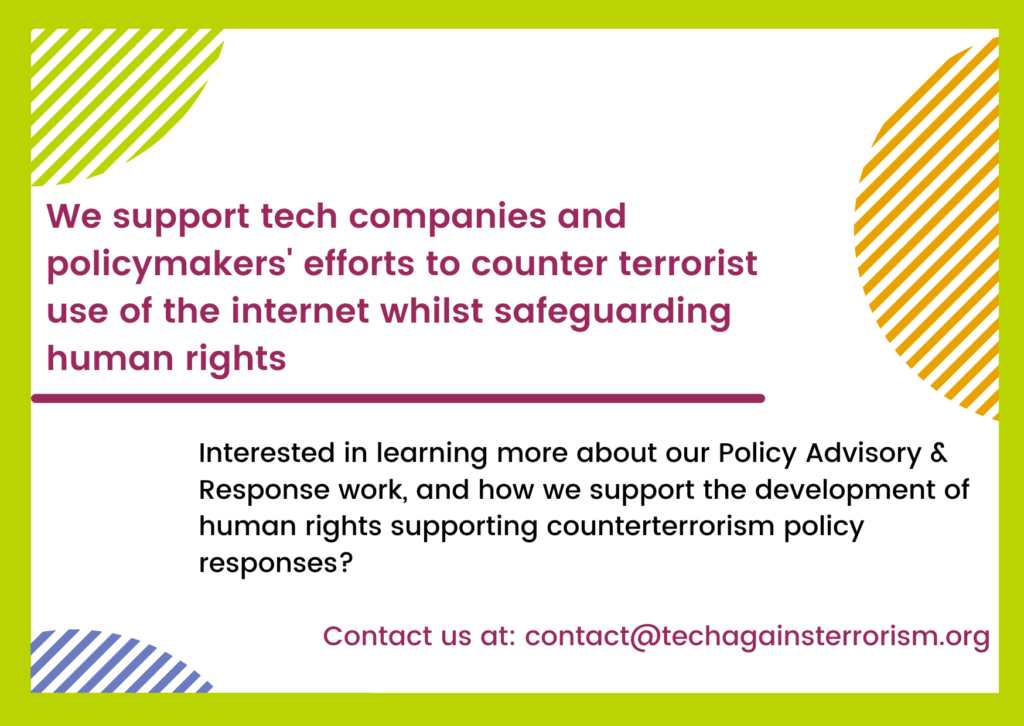 ---
For any questions or media requests, please get in touch via:
contact@techagainstterrorism.org
---