If you are a tech company that would like to register for the Knowledge Sharing Platform, and gain access to all of its research, analysis and guidelines, please see here.
Executive Summary
The Knowledge Sharing Platform (KSP) is a platform developed by Tech Against Terrorism to provide smaller tech companies with a collection of interactive tools and resources designed to support their operational and policy-oriented requirements with regard to developing and implementing an effective and human rights compliant counterterrorism response.
The KSP is a free platform which provides content moderators and Trust & Safety teams with resources, guidelines, and recommendations to support them with tackling terrorist and violent extremist use of their platforms whilst also increasing transparency and accountability towards their users.
Tech Against Terrorism works with a broad range of stakeholders to build on our understanding of the threat and evolving counterterrorism practices. The different insights and best practice we gather from our extensive networks are used to inform our policy and practical support to tech companies. The KSP's resources include research and analysis on terrorist use of the internet, such as the threat landscape and proscribed organisations; on global online regulation; as well as guidelines and recommendations on content standards and transparency reporting. This includes[1]: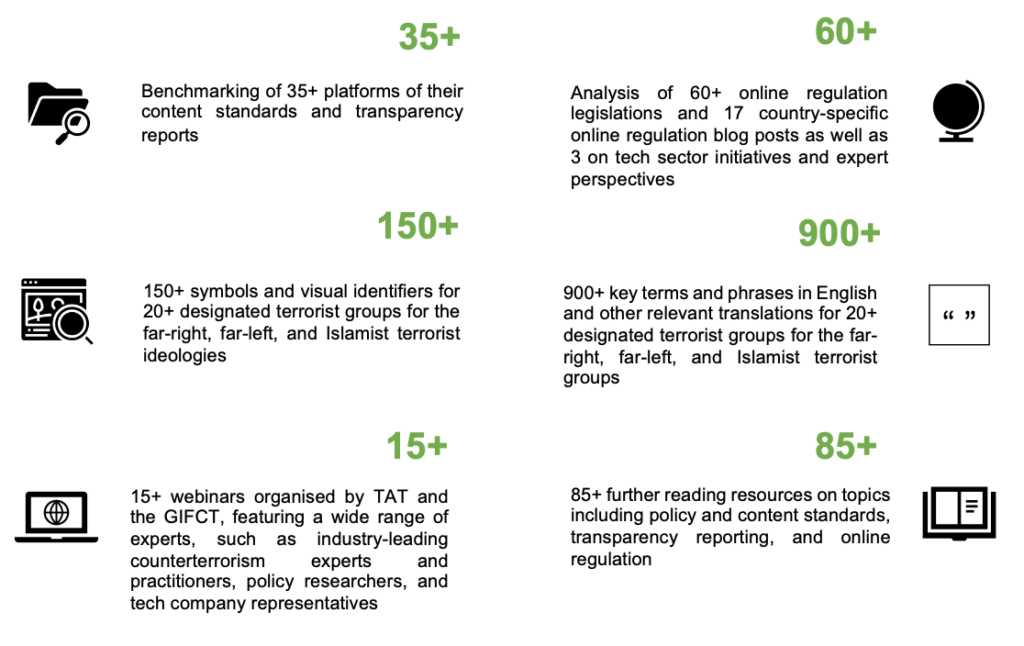 ---
[1] These numbers will increase as this is a starting point, and we will continue to add and update materials. If you have any resources that you would like to share in the KSP, please get in touch at contact@techagainstterrorism.org.
The KSP resources are meant to alleviate the burden that content moderators as well as Trust & Safety teams of smaller platforms face when responding to terrorist content and other illegal activity. Although there are many resources available online for understanding the terrorist threat landscape, online regulation, and human rights, they are difficult for tech companies to locate and often accompanied with little analysis. The KSP collates and organises all this information in analytical research and actionable guidelines, providing a hub of learning and feasible policy and enforcement recommendations for smaller platforms.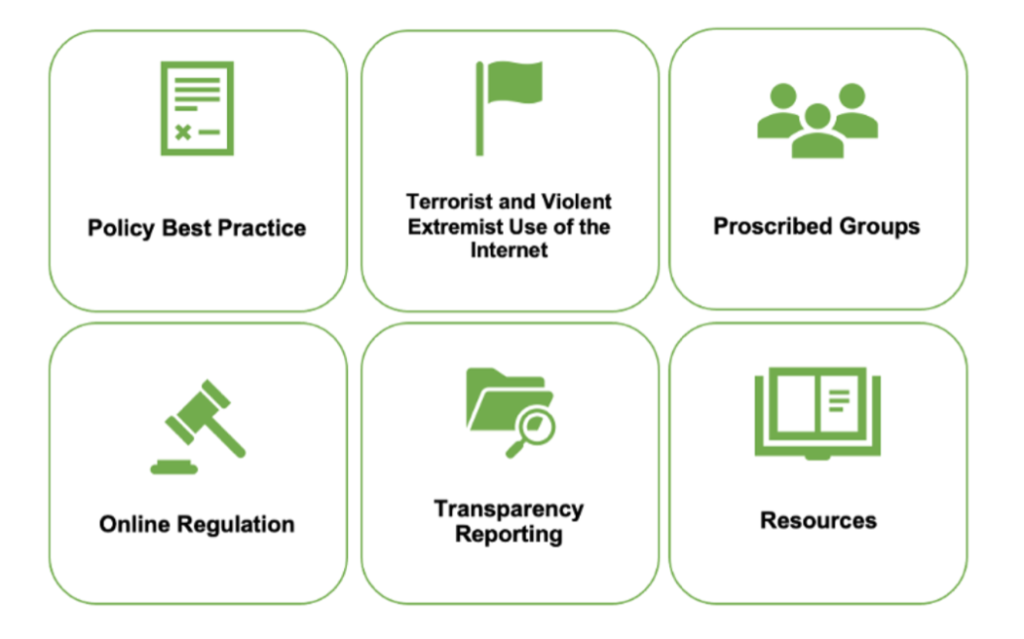 Background
Our research at Tech Against Terrorism shows that small platforms are in urgent need of support in understanding the threat to their services as well as building pragmatic ways to moderate terrorist content effectively.
Our research shows that terrorists use a vast number of smaller platforms to disseminate terrorist propaganda, ranging from messaging apps to video streaming and file sharing platforms. A seven-day study conducted by TAT found over 800 unique IS-related 'outlinks' on a messaging app popular with ISIS supporters leading to more than 90 different platforms.
Teams of such smaller platforms have to look to various places and sources to inform their policies and content moderation decisions. The Knowledge Sharing Platform (KSP) aims to alleviate this burden and to become the "one stop shop" for Trust & Safety as well as content moderation teams to access all the resources needed to strengthen their counterterrorism policies and enforcement mechanisms, in full respect of human rights. The KSP also includes the resources needed to support transparency and accountability efforts.
Originally launched at the United Nations in 2017, we have updated the platform in early 2021 to include the latest research and resources as well as to broaden the scope and include actionable guidelines.
To ensure we are meeting the needs of tech companies and to tailor the KSP accordingly, we gathered feedback from a group of beta users including Eventbrite, JustPaste.it, Ask.fm, as well as other TAT mentees and members in April. The platforms included in this beta user group varied in many aspects, such as type of service, user base size, and content moderation approaches. Following initial insights and feedback from our beta users, we have implemented changes and made updates to the platform ahead of its launch.
Access to the Knowledge Sharing Platform is reserved for tech platforms. All registrations will be vetted by Tech Against Terrorism.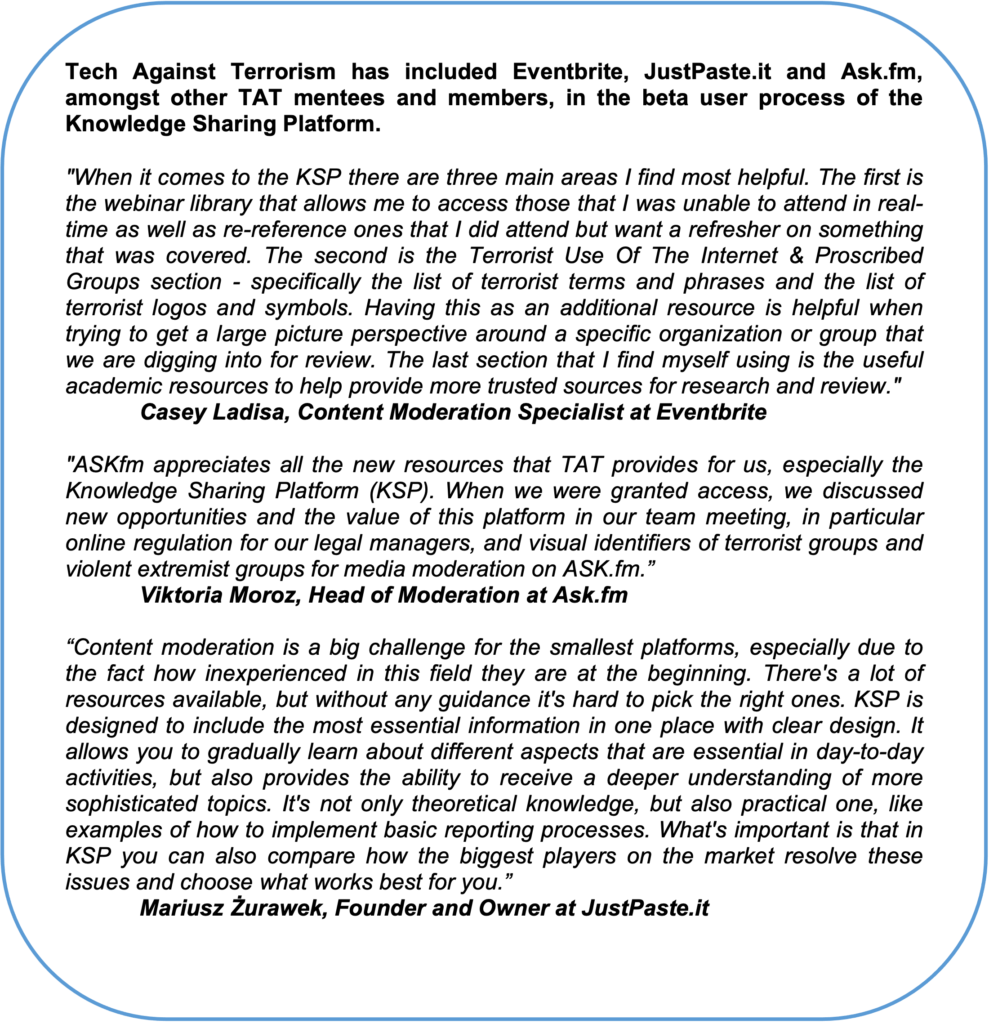 Content
The KSP includesresearch to empower companies to make informed decisions, as well as practical guidance to improve companies' responses to terrorist and violent extremist threats, including best practice support for policy and accountability through recommendations and model guidelines.
The topics covered within the KSP can be categorised as the following: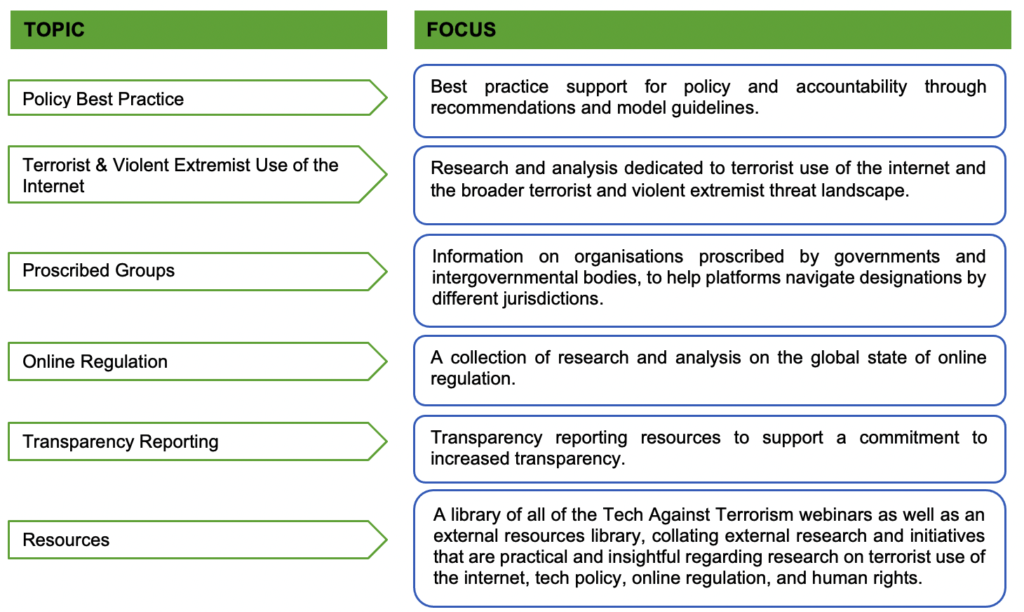 The KSP includes a variety of resources to provide a comprehensive overview of each topic[2].
1) Guidelines to strengthen counterterrorism policies, including:
Key recommendations for content standards, highlighting specific criteria that platforms should consider for community guidelines and prohibited content policies, as well as for ensuring human rights, accountability and transparency.
Key recommendations on how to define and prohibit terrorism, including excerpts from various platforms' wording of terms and policies as guidance.
2) Information on the terrorist and violent extremist threat landscape to strengthen enforcement mechanisms / content moderation, including:
A compendium of 150+ symbols associated with designated terrorist groups and violent extremist groups, including logos and other visual identifiers such as visual imagery, flags, and tattoos.
A terminology dataset of 900+ terms and phrases, containing general key terms and phrases used by terrorists and violent extremists, divided by ideology.
3) Proscribed terrorist organisations to support the understanding of designated groups by jurisdictions:
A list of proscribed organisations from countries and intergovernmental bodies.
A designation list repository, including links to designation lists by democratic nation states and supranational institutions.
A list of violent extremist organisations or movements that TAT deems to be a particular threat.
4) A collection of research and analysis on the state of global online regulation. This included an analysis of 60+ online regulation legislations and 17 country-specific online regulation blog posts as well as 3 on tech sector initiatives and expert perspectives:
An online regulation legislation table, listing all relevant legislation covered in Tech Against Terrorism's Online Regulation Series, organised by country and date.
An online regulation map highlighting legislative trends across the globe.
All 20 blogposts published from the TAT Online Regulation Series, providing insights on all of the regional, tech sector, and expert research conducted by TAT on the state of global online regulation.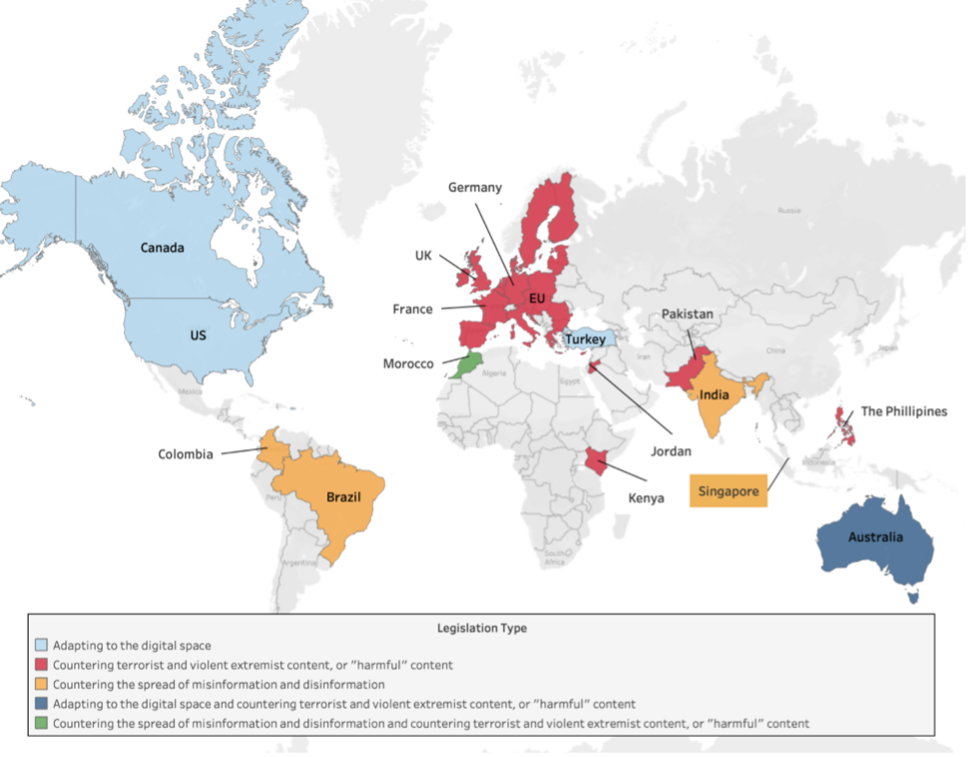 5) Resources to support the commitment to increased transparency, including:
Tech Against Terrorism's key recommendations for transparency reporting, highlighting specific criteria for improving a platform's transparency efforts as well as general accountability towards its users.
A transparency report menu, providing a toolkit for tech platforms to build their own reports.
6) Resources to empower further research and subject matter understanding and the tools to personalise it, including:
Practical external research and initiatives covering terrorist use of the internet, tech policy, online regulation, and human rights.
A training module developed by the US Government's domestically-focused Countering Violent Extremism Task Force and the UK Government's Home Office to provide an overview of the trends and history of terrorists and other violent extremists exploiting social media and the internet.
---
[2] Please note, this is a selected list of examples and does not reflect all content found within the Knowledge Sharing Platform.
The Launch
On 1 July, Tech Against Terrorism launched the KSP in partnership with the UK Home Office. This was accompanied by a launch event, which featured opening remarks from Tech Against Terrorism Director Adam Hadley, a keynote speech from Richard Thompson OBE, Head of Online Policy Unit at the UK Home Office, as well as well as a demo of the KSP. If you were unable to attend the launch event and wish to access a recording, please reach out to us at contact@techagainstterrorism.org.
Next Steps
Given the constantly evolving threat and regulatory landscapes, we will regularly update the KSP to ensure that it remains as accurate and relevant as possible. In addition, we will work to expand on any areas of focus, such as to include more regions or groups in scope. Finally, as Tech Against Terrorism extends its own knowledge and research, we will aim to reflect this as well as any upcoming insights within the KSP.
For example, we will be updating the proscribed organisations listing to expand on other democratic nation states' designation processes. We are currently conducting a research project on designation processes and will therefore endeavour to update this list later in 2021.
Similarly, as the state of global online regulation continues to change, Tech Against Terrorism will strive to provide regular updates on the implications for tech companies, and their efforts in countering terrorist use of the internet whilst respecting human rights.

If you are aware of something that should be included or updated, please get in touch with us at contact@techagainstterrorism.org.