Knowledge Sharing Platform
Interactive tools and resources for tech companies seeking to implement an effective human rights compliant counterterrorism response.

Curated Industry Research
As a first step in the mentorship process, we conduct an in-depth review of your platform's content standards, highlighting areas of strength and outlining where there is room for improvement.

Best Practice Tools & Guidance
Best practice support for policy and accountability through recommendations and model guidelines including on: content standards, prohibited content and behaviour, prohibiting and defining terrorism, as well as transparency reporting.

Tailored Advice & Training
Platform specific area with a personalised space for platforms to engage in online training and the possibility of platform interactivity through bookmarking essential resources.
0
Participating tech platforms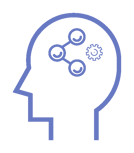 Curated by specialists at Tech Against Terrorism
The Knowledge-Sharing Platform is for smaller tech companies who need operational and policy support to implement an effective and human rights-compliant counterterrorism response.
"ASK.fm appreciates all the new resources that TAT provides for us, especially the Knowledge Sharing Platform (KSP). When we were granted access, on our team meeting we discussed new opportunities and the value of this platform, in particular online regulation for our legal managers, and visual identifiers of terrorist groups and violent extremist groups for media moderation on ASK.fm".

Head of Moderation, Ask.FM
Get Updates in Your Inbox